In order to quickly earn some amount of money, it is not necessary to have a certain set of knowledge, to have a higher professional education or to get a well-paid position "by acquaintance". You can earn income on the World Wide Web, which is already used by many users not only as a method of entertainment. This way of earning mostly does not require skills and abilities, it is enough to perform simple tasks. It will not be possible to earn the first million this way, but it is quite possible to get additional funds.
The essence of earning on tasks
The Internet offers many ways to earn money without leaving home and without investing start-up capital. Beginners should try simpler tasks that do not require specialized skills, but later you can choose more complex options.
Tasks are understood as certain assignments from the "employer" created for personal gain, for example, promoting a blog. At the same time, its owner is ready to pay for the actions performed by temporary employees.
Earning from tasks is not limited to Internet marketing. There are many options for instructions from the customer, which are suitable for different performers. The most common examples:
evaluate the application for the phone after downloading;
solve a captcha on a certain site;
write an article, comment, feedback or student paper, including a diploma;
vote for a company, creative work, specific person, project or community;
work in social networks – putting likes, reposts, joining the community or adding anyone as a friend;
create an advertising message on the forum with a hidden or open link to a third-party resource;
pass a survey, test;
stay on a certain site for about 30 seconds.
There are many options for earning money on tasks on the Internet, every performer can find something that he really likes and at the same time it will not be difficult to implement. You can engage in such activities anywhere, it is enough to have a PC, laptop or mobile gadget with uninterrupted access to the Internet at hand.
The algorithm for performing tasks can be different, it all depends on the service, but, as a rule, it consists of the simplest actions:
Go through the registration procedure, which does not take much time.
Read the rules of the resource for earning, decide on the method of withdrawing funds.
Fill in information about yourself and select the tab with current tasks.
Before starting a task, familiarize yourself with its conditions.
Take a task for work or submit a request. After approving the application, perform the actions specified in the TOR and provide the result.
Receive a salary, provided that the customer is satisfied with the work of the performer.
It is important to pay attention to the method of withdrawing funds, often this requires the presence of an electronic wallet. Most services work with Webmoney, Payeer, PayPal. So that there are no difficulties when withdrawing funds from any task exchange, it is advisable to have several different wallets.
Types of earning on tasks
Among the large selection of tasks presented on exchanges for earning, it is important to choose the one that you can really cope with. It is not worth taking on unfeasible technical specifications, it will be a waste of time for both the customer and the contractor.
Sample instructions that will help you choose a suitable task for earning:
Set a filter by topic: it is advisable to select several to have more choices.
Using job filtering, set the minimum payment threshold for tasks.
Customize notifications if the task app is installed on your phone. This will help not to miss the most profitable options.
Carefully study the technical tasks and submit the finished result on time.
Popular options for earning money by completing tasks:
Passing tests. The task has several questions from any area that must be answered. Test solutions may be hidden on other pages of the web resource; as a result, the customer, also the advertiser, is convinced that the performer has visited the site and studied it.
Captcha solution. This is a small picture containing a combination of letters and numbers that are not always clearly visible. Also, the captcha can present a small mathematical problem or a set of pictures where you need to choose the correct option to answer the question. This task usually takes a little more than 30 seconds.
Surfing resources. This option involves going to the customer's links on the site where you need to stay for a certain period of time. The action is quite simple, and its execution is monitored by a timer. At the end of the term, the performer must solve the final mathematical or logical problem.
Participation in various online polls. You just need to choose the desired option among those presented, which the customer will indicate in the technical specifications.
Reading letters. The task is similar to surfing Internet resources, as it requires going to the site specified by the customer in the task. You must first read the information in the letter, then answer the control question.
Registration on Internet resources or social networks. Similar events can be combined with other activities: for example, in social networks you need to like certain posts.
List of simple tasks for earning is constantly replenished. It can be installing applications, translating video and audio materials into printed form, writing notes and reviews. For lovers of creativity, there are special copywriting exchanges for writing texts according to the customer's TK. The latter also offer translations from foreign languages, the solution of tasks in educational subjects, and the implementation of design projects. For owners of programming skills, you can choose TK with the development of simple applications.
Average income level
The field of performing simple tasks for payment rarely becomes the main type of income, most likely it is a way to increase income in free time. The average increase to the budget can be slightly more than $150-300 (equivalent in hryvnia), depending on the type of task.
Income is affected by both types of TK and the time spent by the performer. The bigger it is, the higher the payment will be.
Earnings on tasks in Ukraine – a list of verified services
There are many services on the Internet that contain tasks of different levels. It is important to choose verified web resources, so as not to encounter fraud, which will turn into a lack of payouts.
You can work on several services at once and perform tasks available on them. All that is required from the performer is to go through a simple registration and choose the TK that suits him.
UNU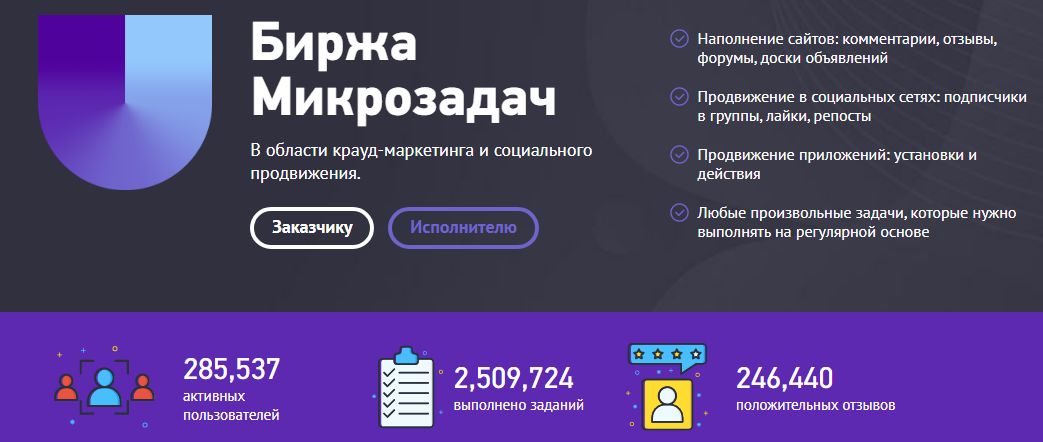 UNU microtask exchange – https://unu.im. This is a rapidly developing service that does not require a lot of time for registration and has more than 270 thousand active users. The service cooperates with YouTube, Facebook, Telegram, Twitter, Instagram and allows you to get likes, get new subscribers, promote groups and increase the number of followers. You can also earn by commenting, publishing relevant content on certain platforms or in your account, communicating on forums and installing applications. The interface is intuitive and looks nice, and they pay out earned funds to Perfect Money, Payeer, bank card or cryptocurrency: Minter, USDT (TRC-20)
Kolotibablo
Link to the service – https://kolotibablo.com/
The main principle of earning money on tasks for free (meaning without starting capital) on the Kolotibablo exchange is captcha solutions, fines are imposed for mistakes. It can be Russian and English letters, as well as a set of pictures. If the input was incorrect several times, the user gets to a temporary block.
Earnings on the service are in dollars: to reach the minimum amount for cashing out, you need to solve at least 500 tasks. Withdrawals are via CryptoSwapp, Capitalist, Litecoins and AdvCash, at least 0.5 USD. You can work not only in the web version, but also with the help of a mobile application.
2Captcha
The link to the service is https://2captcha.com
A service for making money by solving captchas, which is distinguished by the need to undergo training, which is 45 points. Knowledge of the English language will be needed here. The amount of payment for captcha solutions is small, in general, the income can be from 9 cents per hour.
Withdrawals are available to various virtual wallets including Perfect Money, AdvCash, Payeer, AirTM, Webmoney and Bitcoin. The minimum withdrawal amount is $0.25
Protypers
Another site focused on deciphering captchas is entirely in English, so it is only suitable for performers who know the basics of the language. The minimum withdrawal amount is $3 and withdrawals are only possible once a week on Mondays.
You must select a payment system during profile registration. Available options are PayPal, WebMoney, Western Union, Perfect Money, LiteCoin, and Bitcoin.
Clickworker
This is an English-language site that is the official platform for freelancers. Most tasks do not require specialized knowledge or qualifications.
To work on Clickworker, it is enough to reach adulthood and have a phone with access to the world wide web at hand. The tasks of the service are mainly aimed at recognizing people and other objects, which is connected with the desire of foreign IT companies to teach artificial intelligence. As a rule, the tasks are reduced to photos and videos of the performer, in which he himself, his surroundings, pets and landscapes are present.
A non-disclosure agreement must be signed between the customer and the contractor. The average temporary employment on the service is from 5 minutes to 4 hours.
Freelancehunt
Link to the service – https://freelancehunt.com/
Ukrainian freelancing exchange that offers quick earnings for completing tasks. Contains various options for actions, starting with working with texts and ending with design and programming. Has several withdrawal options, including transfer of earned funds to bank cards.
Kabanchik
Link to the service – https://kabanchik.ua/
The Kabanchik service combines many performers and customers, the main focus of the site is solving household and business tasks.
Offers the following task options:
cleaning services;
home craftsman;
volunteer activity;
repair and decoration works that do not require specialized knowledge, as well as TK for specialists;
courier services;
construction activity – a section for professionals;
repair of equipment, help in everyday life;
organization of logistics activities, etc.
For those who like to work online, Kabanchik offers copywriting, website and application development, advertising creation, and translations.
The choice of directions is wide, and the activities of craftsmen and customers are spread over the entire territory of Ukraine: it is enough to choose your geographical location when registering. Earned funds can be withdrawn in various ways, including a bank card. The service is available in the web version and with the help of an application on a mobile gadget.
Freelance
Link to the service – https://freelance.ua/
The official resource created for both freelancers and the self-employed. The catalog of services and tasks is quite large, it involves not only actions in the Network, but also solving household tasks.
The minimum execution time is from 24 hours, depending on the type of task. The site administration monitors the security of transactions.
Pros and cons of earning on tasks
The main advantage of the method of earning money on tasks is its accessibility even to those performers who do not have specialized knowledge. Additional benefits of the activity:
no income tax;
the possibility of participating in a referral program that brings additional income;
most tasks do not take much time;
tasks can be completed anytime and anywhere, the main thing is to have access to the Internet;
quick withdrawal of earnings;
no initial investment required.
There are such works and some disadvantages:
no professional development;
tasks are usually of the same type.
The main disadvantage of earning money by performing tasks is that this activity most often cannot become the main one.
Tips for beginners
A beginner freelancer in the world wide web is presented with many opportunities to receive additional income. However, it is important to allocate your time correctly and find the niche that will suit you the most.
In order to immediately receive the maximum tangible income, you must follow the following tips:
Before starting the task, it is important to study the TK. This will ensure correct execution and immediate acceptance of the result by the customer.
It is necessary to compare the types of tasks with profit. Sometimes several easy and low-paying TK will bring more income than one expensive but painstaking one.
You can and should agree to affiliate programs, as this is a way of additional income.
When working in social networks, it is important to take into account that high activity causes the profile to be blocked.
It is advisable to create profiles on several services at once – this gives an opportunity not only to increase the total profit, but also to gain more knowledge.
You should not focus on one type of income, it is advisable to consider and try different areas.
Before registering on the chosen web platform, it is advisable to study real reviews about it, so as not to fall for scammers.
The first tasks should be "to your heart's content", this is exactly what the performer likes and is really good at.
Customers who have to approve a task executor always study his profile. It is important that it is filled as much as possible.
Do not forget about rest, this is an important point for both beginners and regular performers.
When submitting an application for a task, it is necessary to interest the customer as much as possible. You should not write a standard comment in the form of "Ready to execute". It is better to stand out from the competition and give a detailed answer as to why you are suitable for TK. It is also desirable to constantly develop, pass all kinds of tests and exams that improve qualifications and give more opportunities to perform tasks in various fields.
Conclusion
Earning on tasks is a quick way to get an addition to the budget, but it will not become a permanent source of additional income in the absence of qualifications and specialized knowledge. The modern global network offers many sites for freelancers that allow not only to replenish the wallet, but also to develop.